<![if !vml]>

<![endif]>
<![if !vml]>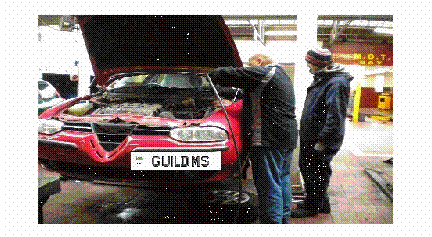 <![endif]>

MOT & Service Pricing »
The pricing depends on the size of the engine capacity and grade of oil recommended.

MOT test from £20 if you book it with a service - saving time and money.

Guild Motors will only use an oil equivalent to your vehicle manufacturer's specification.

Guild Motors stamp your service book with every service carried out by us.

MOT testing only from £40 free retest within 10 working days.

For vehicles up to 1600cc
| | | | | |
| --- | --- | --- | --- | --- |
| | Carlube | Zetec Oil | Triple QX | Specialist Oils |
| Oil Service | £34.99 | £34.99 | £44.99 | £54.99 |
| Interim Service | £79.00 | £79.00 | £95.00 | £105.00 |
| Interim Service Plus MOT | £99.00 | £99.00 | £115.00 | £125.00 |
| Full Service | £145.00 | £145.00 | £155.00 | £165.00 |
| Full Service Plus MOT | £165.00 | £165.00 | £175.00 | £185.00 |
For vehicles above 1600cc up to 3000cc
| | | | | |
| --- | --- | --- | --- | --- |
| | Carlube | Zetec Oil | Triple QX | Specialist Oils |
| Oil Service | £34.99 | £34.99 | £44.99 | £54.99 |
| Interim Service | £105.00 | £105.00 | £115.00 | £125.00 |
| Interim Service Plus MOT | £125.00 | £125.00 | £135.00 | £145.00 |
| Full Service | £165.00 | £165.00 | £175.00 | £185.00 |
| Full Service Plus MOT | £185.00 | £185.00 | £195.00 | £205.00 |
Copyright www,guildmotorservices.co.uk All Rights Reserved